With 8 of the 14 highest peaks in the world, Nepal is a trekker's paradise. Nepal host some of the best treks in the world like the Everest Base Camp Trek and Annapurna Circuit Trek. The one trek that has made it to the bucket list of every trekker is the Everest Base Camp trek.  Everest Base Camp Trek is arguably the best trek in the world. Every trekker dreams of successfully completing this trek. The record has it that in peak season, more than 40,000 trekkers trek to Everest Base Camp.
Everest Base Camp is famous for its dramatic landscapes, lush rhododendron forests, moraine, breathtaking mountain views, glaciers, monasteries, and beautiful villages. Everest Base Camp Trek is an enthralling adventure that lets you explore Sagarmatha National Park, traverse through lush rhododendron forests, quaint Sherpa settlements, and cross high suspension bridges. This trek rewards stunning views of majestic mountains like Nuptse, Ama Dablam, Lhotse, Mount Everest, and neighboring peaks. Kala Patthar, Namche Bazaar, Tengboche monastery, Dingboche, Lukla and Gorakshep are the major resting grounds along the route to the base camp. There are many things to consider but here are the top 10 things to know before doing Everest Base Camp Trek.
1. Cost of Everest Base Camp
The cost of the Everest Base Camp trek depends on many factors like the number of days, the route, the travel agency you choose to trek with, and their service. There is no exact figure for the cost of the Everest Base Camp trek, but we can reckon that the trek can cost you anywhere from $1300 to $4500. The Everest Base Camp cost can be divided into three categories: standard trek, budget trek and luxury trek. The budget trek is the cheapest one while the luxury trek are the most expensive.
2. Best season for Trekking to Everest Base Camp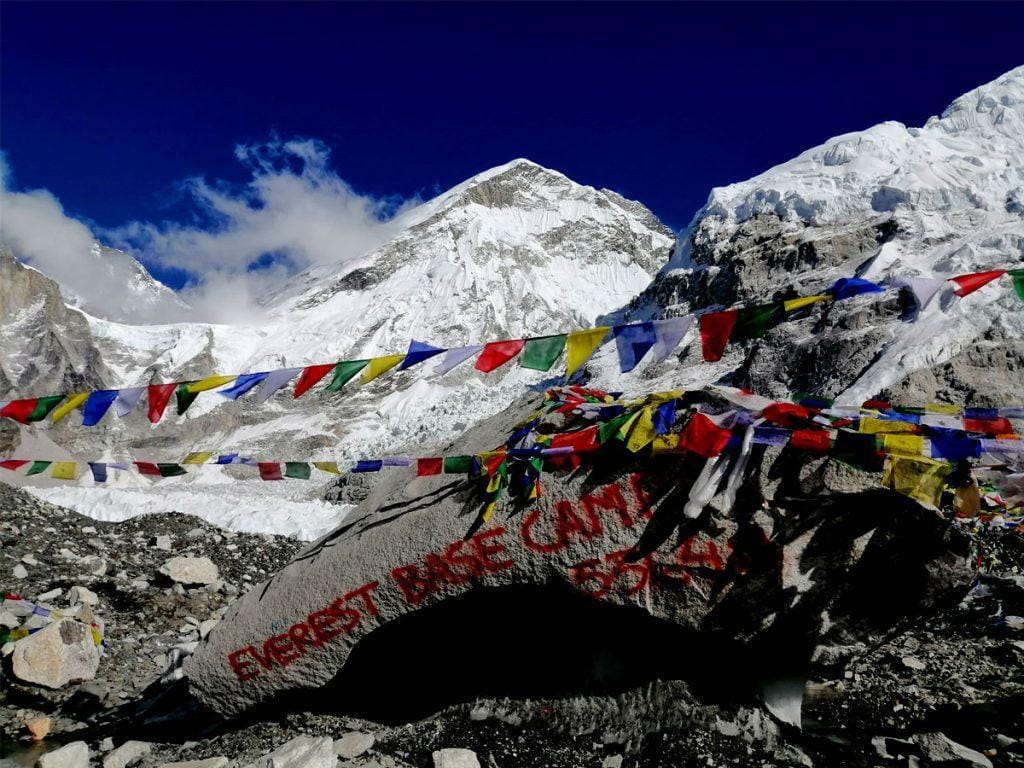 There are two most preferred seasons for trekking to Everest Base Camp:  Autumn (September to November) and spring (March to May).
Trekking to EBC in these seasons is the best decision. The weather remains balmy with a clear sky to view the majestic mountains.  The trekking trails remain favorable throughout the season. You can do it in winter as well but you will have to face the extreme coldness and unforeseen circumstances. That said, you cannot plan to trek in the monsoon, as it is a bad time to trek to the base camp of Everest.
3. Backpacking: What things to carry
While preparing for the trek to Everest Base Camp, packing can be overwhelming. You might get confused with the things and end up carrying unnecessary things or missing gears. Below is the list of equipment and gear for Everest Base Camp Trek. Admittedly the list is ideal for most trekkers. But you can consider your own packing list depending on your preference and time of the year.
Trekking Shirts, Trekking trousers,  Fleece Jacket, waterproof jacket, hat, Beanie, Neckband, Inner and outer gloves, hiking boots, pairs of hiking socks,
Sleeping Bag, daypack, backpack, sports underwear, trekking shoes, warm thermal socks, rain cover, towels, sunglasses, trekking poles, water bottle, camera, portable charger,  headlamps, spare batteries, personal first aid kit, and toiletries.
4. Nature of Hiking: Solo hiking or group, guided hiking or not-guided hiking
You can do a solo trek or join a group or hike with a guide and porter. It is totally on you. You can do a solo trek if you love unchaperoned trips. But make sure you are well-prepared and a high-altitude experienced trekker. Group hiking is always fun. And you can personally hire a local guide and porter for yourself. If you don't have time, you can organize a trek with a travel agency. They will do everything for you including all your legworks. The perk of doing a solo trek is that it will save you some money and you can enjoy the trek all by yourself. Organizing a trek through a travel agency is a good idea as well.
5. Route to EBC to/from Kathmandu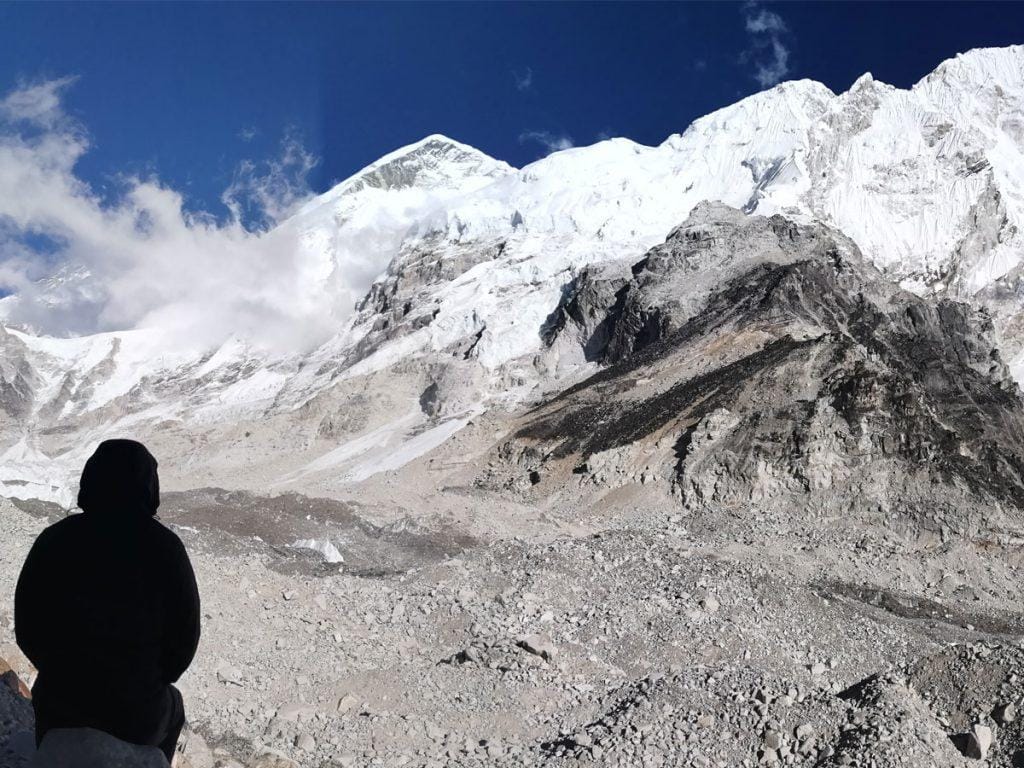 The trek starts from Kathmandu and ends in Kathmandu. The trek begins from Lukla, once you land at Lukla airport from Kathmandu. It is a thrilling experince to fly to Lukla. From Lukla, the trail meanders the classic trail through Phakding, Namche Bazar, all the way to Kala Patthar. It usually takes 14 days to complete the trek. However you can always customize the trek based on your budget and preference.
6. Guides and Porter
One of the most asked questions about the Everest Base Camp trek is "Should I hire a guide or not?" "Are guides and porters compulsory to trek to the Everest Base Camp?" Well, it is your choice; you can hire them or do it independently. If you ask us, we recommend you hire a local guide and a local porter for your trek to the base camp of Everest. They will enrich your travel experiences and besides, they will manage things like booking a room and interacting with locals for you.
7. Permits and Requirements
Everest Base Camp Trek will cost you two permits:
Sagarmatha National Park Entry Permit, and
Khumbu Rural Municipality Entrance Permit.
You can obtain Sagarmatha National Park Entry Permit from the Nepal Tourism Board's Office in Kathmandu and it costs NRS 3000 for other nationals and for citizens of SAARC countries, the fee is NRS 1500. Similarly, Khumbu Rural Municipality Entrance Permit can be obtained in Lukla and it costs NRs. 2000.
8. Currency: carry Nepali currency
Is it necessary to carry Nepali currency? Well of course it is imperative that you carry some money.
Carrying Nepali currency helps you in every way for your monetary transactions in Nepal. You might want to buy things and order extra food at a local teahouse. It is crucial if you are doing a solo trek because you will have to manage everything on your own. You can exchange currency at the airport or in an exchange booth in Thamel area.
9. No hunting in Sagarmatha National Park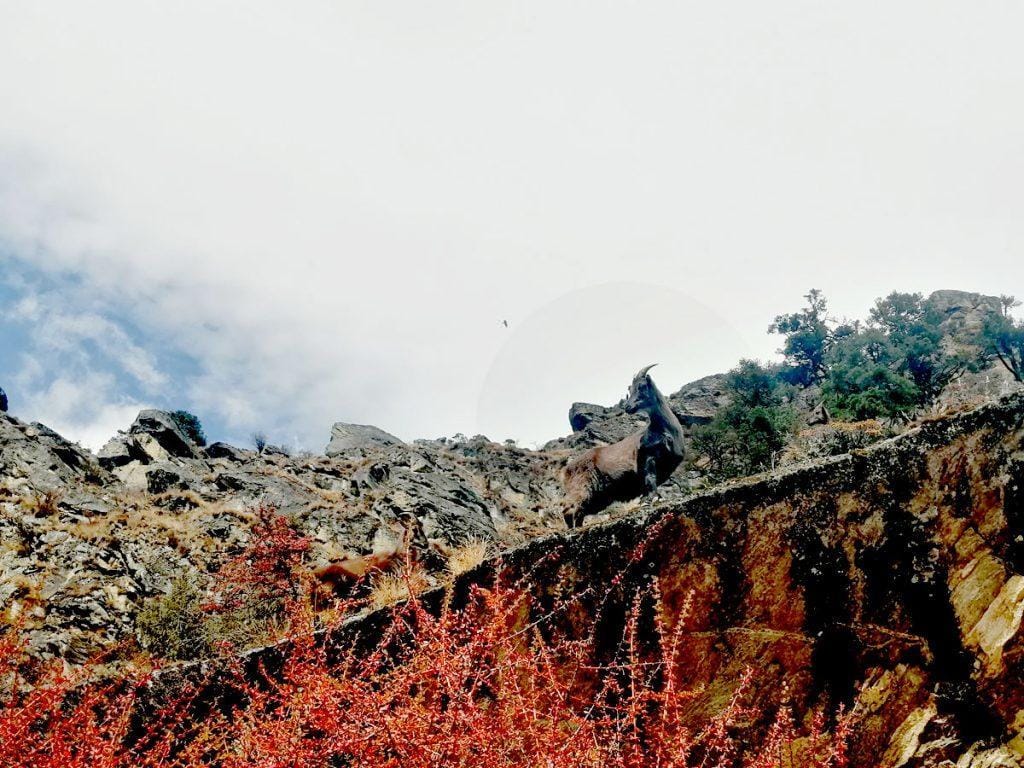 Sagarmatha National Park is one of 10 UNESCO World Heritage Sites in Nepal. It is home to many animals including Himalayan monal, Himalayan black bear, snow leopard, red panda, and musk deer. There are more than 118 species of birds in this national park. Sagarmatha National park is a haven for wildlife at such a height.  You can witness untamed wildlife but poaching is strictly prohibited here. The government of Nepal has banned illegal hunting of wildlife in this national park.
10. Insurance: Do you need Insurance?
Yes, you need a good insurance policy for the Everest Base Camp trek. Insurance is absolutely important since you will be tackling the soaring height above 5500m. Make sure to buy a good insurance plan that covers altitudes above 5000m and coverage like emergency evacuation and medical emergencies. You never know what happens in the mountains, altitude sickness can cause serious problems. So, yes, you need to buy travel insurance. Some travel agencies have made it compulsory to buy insurance.